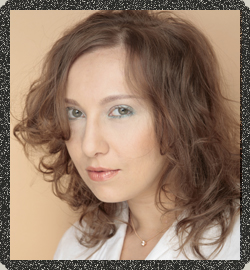 I was born on October 12, 1970, in Novosibirsk Russia.
After graduating from the Music College, I came to Japanon a 3 months home-stay program in Sapporo on December 1991.
While appearing in various mini concerts etc., I found Mr. Yoshinobu Tutumi, president of TMC Co. Inc. interested in my work. This resulted in the recording and the release of an album through his company in 1992.
Following that, a contract was sealed with ROAD&SKY Corp., and on May 25, 1994I made my major-debut with the release of my album °»ORIGA°… from TOSHIBA/EMI Co. Inc.
In 1995, I performed the chorus in Seiryu Otaka°«s album °»Repeat Performance III°…. I performed as the main vocal in the Osaka and Kobe earthquake disaster charity single °»Maria°… by Hamada Shogo with The R & S Inspirations that was released on July 1 of the same year. In addition, I have been participating in works of various artists.
I have also participating in world-level activities, such as introducing Japan°«s music scene in 1996 as a personality on the °»JAPAN POP SCENE°…, a program series on Radio Japan(NHK International Affairs Bureau) which goes on air 4 times a year.
Among various live performances in halls concert halls in & around the metropolitan Tokyo, I performed an acoustic live celebrating the second anniversary of °»U. Goto Florist°… the long standing flower shop in Roppongi, in a style that brushed away the usual concept of live performance.
Besides in Tokyo, I have performed a number of mini-concerts in Nagoya, Nemuro, etc. My second single record °»Polyushko pole°… which was released on July 23, 1998 became well known as the opening song of the TV drama °»(Blue era )Aoi no Jidai°… on TBS TV., My next album °»Eternity°… was released on September 23rd of the same year, with the song as a bonus track, and was praised widely.
Following these successes, my first Best Album °»The Best of ORIGA°… was released on October 14, 1999, Thanks to wonderful fans, it is still receiving a high audience and good sell.


ORIGA was born in Novosibirsk Russiaon 12th of October, 1970. When she was five years old, ORIGA `s talent for singing was recognized and she entered a music school in Novosibirsk. After graduation from music school she met Professor Kaneko of Sapporo University, who had been visiting Russiato find a good female vocalist to invite to Japanand he decided to invite ORIGA toSapporo. With this invitation, ORIGA performed concerts during the winter of 1992 in Sapporo. After one such concert she was approached by a concert promoter who was so impressed with her performance that he introduced her to the president of ROAD&SKY co., ltd. Mr. Takahashi gave little hesitation in supporting her and ORIGA was then introduced to Toshiba EMI which offered her a major recording contract.
ORIGA made her debut with the album °»ORIGA°…(TOCP-8287 on 25th May 1994, and many great artists, including Yukihiro Takahashi and Shizuru Otaka, have shown interests in her, offering opportunities for her to sing on their own albums.
Her 4th album °»Eien°… has been remembered as the first Russian pops album recorded, and even climbed to #64 on the Japanese national hit chart °»ORICON°… in 1998.
She has also shown her great performance at her concerts and many others kinds of events.
Her crystal clear voice can be heard on TV, CM, or some sound track of film, videos.